Laptop-Notebook Power Supplies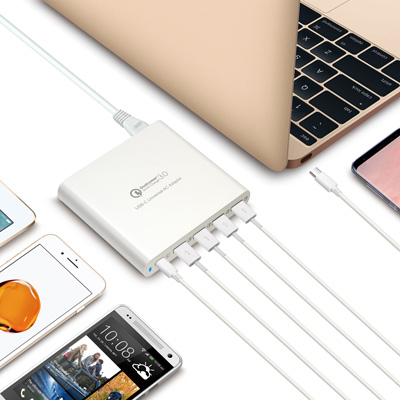 Finding the right AC Adaptor for your laptop or notebook...

Most people refer to these as chargers but they are technically an AC Adaptor.

In the most basic of forms, AC Adaptors convert AC mains power (100-240V) to a smaller DC voltage for use with devices.

Finding a suitable Laptop AC Adaptor is a very simple 3 step process;

Voltage (V) input voltage required by the device (found on the rating label)
Current (mAh) input current the device consumes (also found on rating label)
Connector size and polarity of the connector itself.


There is a very simple to follow guide here

Master Instruments offers a number of universal solutions that are suitable for a wide range of devices from well know manufacturers such as Acer, Apple, Asus, Compaq, Dell, Fujitsu, HP, Lenovo, Sony and more.

Our newest product, the QC3-AC-LT5 from Enecharger, is a universal Automatic Smart charger and comes supplied with 10 common adaptors (connectors) + a USB-C cable for charging most brands. And we have also added 8 extra adaptors to use with this for bunch of other device models.

Click here to view the cross reference guide . (Includes voltage, current and connector dimensions)

For more information, please view the products from the list below.
Image
Model No
Sort
Description
Brand
Sort
Diameter/
Width
(mm)
Sort
Height
(mm)
Sort
Length/
Breadth/
Depth/
(mm)
Sort
Weight
(g)
Sort
LT-AC90
90W laptop power supply with 12V-24V (6.0A max.) output plus 5V 2.1A max USB output
Enecharger
69.6
17.5
114
239
LT-DC90
90W in-car laptop power supply with 14V-20V (6.0A max.) output plus 5V 2.4A max USB output
Enecharger
63.5
16.9
48.9
61
LT-PD90
90W USB-C power delivery laptop charger with 5V-20V output and 5V 2.4A USB-A
Enecharger
59
25
125
269
QC3-AC-LT3
3-port USB & USB-C smart fast charger 5V-20V 40W
Enecharger
65
16
109
126
QC3-AC-LT5
5-port USB & USB-C smart fast charger 5V-20V 80W
Enecharger
98
20
110
238
QC3-AC-LT5-N09
USB-A to laptop DC connection cable with N09 19.5V DC tip - Suitable for Fujitsu & Sony
Enecharger
34.5
QC3-AC-LT5-N14
USB-A to laptop DC connection cable with N14 16V DC tip - Suitable for Acer, Delta & IBM
Enecharger
34.5
QC3-AC-LT5-N20
USB-A to laptop DC connection cable with N20 19V DC tip - suitable for Asus
Enecharger
34.5
QC3-AC-LT5-N22
USB-A to laptop DC connection cable with N22 19.5V DC tip - Suitable for Dell
Enecharger
37.5
QC3-AC-LT5-N33
USB-A to laptop DC connection cable with N33 19V DC tip - Suitable for Samsung
Enecharger
34.5
QC3-AC-LT5-N40
USB-A to laptop DC connection cable with N40 19V DC tip - Suitable for Asus
Enecharger
37.5
QC3-AC-LT5-N41
USB-A to laptop DC connection cable with N41 12V DC tip - Suitable for Microsoft Surface Pro & Tablet Pro
Enecharger
37.5