MultiPlus Inverter Chargers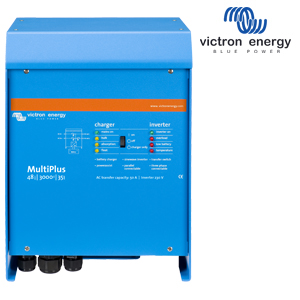 The
MultiPlus
, as the name suggests, is a combined inverter and charger in one elegant package.
Its many features include a true sine wave inverter, adaptive charging, hybrid PowerAssist technology, plus multiple system integration features. With models starting at 12V 800VA 20A, the MultiPlus ranges provide models suited to a wide range of power requirements.
Features include:
The PowerAssist feature which prevents overload of a limited AC source, such as a generator or shore power connection.
Uninterrupted AC power (UPS function) which in the event of a grid failure, or when shore or generator power is disconnected, the inverter within the Multi is automatically activated and takes over the supply to the connected loads.
Remote Monitoring and Control allowing you to control your MultiPlus and system or systems' locally (LAN) or remotely via the internet from anywhere in the world, using the free VRM app and free VRM portal website.

Image
Model No
Sort
Description
Brand
Sort
Volts
(V)
Sort
Diameter/
Width
(mm)
Sort
Height
(mm)
Sort
Length/
Breadth/
Depth/
(mm)
Sort
VEICEPC-12/1600/70
EasyPlus Compact Inverter & SLA/LiFePO4 Charger 12V 1600VA 70A CEP121620000
Victron Energy
12
214
510
110
VEICMP-12/1200/50
MultiPlus Inverter & SLA/LiFePO4 Charger 12V 1200VA 50A PMP122120000
Victron Energy
12
250
406
100
VEICMP-12/1600/70-16
MultiPlus Inverter & SLA/LiFePO4 Charger 12V 1600VA 70A - 16A Transfer Switch PMP122160000
Victron Energy
12
265
470
120
VEICMP-12/2000/80-32A
MultiPlus Inverter & SLA/LiFePO4 Charger 12V 2000VA 80A PMP122200000
Victron Energy
12
225
500
135
VEICMP-12/3000/120-16A
MultiPlus Inverter & SLA/LiFePO4 Charger 12V 3000VA 120A - 16A TRANSFER SWITCH PMP122300001
Victron Energy
12
258
362
218
VEICMP-12/3000/120-50
MultiPlus Inverter & SLA/LiFePO4 Charger 12V 3000VA 120A PMP123021010
Victron Energy
12
258
362
218
VEICMP-12/500/20-16
MultiPlus Inverter & SLA/LiFePO4 Charger 12V 500VA 20A - 16A TRANSFER SWITCH PMP121500000
Victron Energy
12
182
311
100
VEICMP-12/800/35
MultiPlus Inverter & SLA/LiFePO4 Charger 12V 800VA 35A PMP121800000
Victron Energy
12
240
360
100
VEICMP-24/1200/25
MultiPlus Inverter & SLA/LiFePO4 Charger 24V 1200VA 25A PMP242120000
Victron Energy
24
250
406
100
VEICMP-24/1600/40-16
MultiPlus Inverter & SLA/LiFePO4 Charger 24V 1600VA 40A - 16A Transfer Switch PMP242160000
Victron Energy
24
265
470
120
VEICMP-24/2000/50-32A
MultiPlus Inverter & SLA/LiFePO4 Charger 24V 2000VA 50A PMP242200000
Victron Energy
24
225
500
135
VEICMP-24/3000/70-16A
MultiPlus Inverter & SLA/LiFePO4 Charger 24V 3000VA 70A - 16A Transfer Switch PMP243020001
Victron Energy
24
258
362
218
VEICMP-24/3000/70-50
MultiPlus Inverter & SLA/LiFePO4 24/3000/70-50 230V VE.Bus PMP242301011
Victron Energy
24
258
362
218
VEICMP-24/5000/120
MultiPlus Inverter & SLA/LiFePO4 Charger 24V 5000VA 120A PMP245021010
Victron Energy
24
328
444
240
VEICMP-24/500/10
Multi Inverter & SLA/LiFePO4 Charger 24V 500VA 10A CMP245010000
Victron Energy
24
182
311
100
VEICMP-24/500/10-16
Multi Inverter & SLA/LiFePO4 Charger 24V 500VA 10A - 16A Transfer Switch PMP241500000
Victron Energy
24
182
311
100
VEICMP-24/800/16
MultiPlus Inverter & SLA/LiFePO4 Charger 24V 800VA 16A PMP241800000
Victron Energy
24
240
360
100
VEICMP-48/1200/13
MultiPlus Inverter & SLA/LiFePO4 Charger 48V 1200VA 13A PMP482120000
Victron Energy
48
250
406
100
VEICMP-48/1600/20-16
MultiPlus Inverter & SLA/LiFePO4 Charger 48V 1600VA 20A 16A TRANSFER SWITCH PMP482160000
Victron Energy
48
265
470
120
VEICMP-48/3000/35-16
MultiPlus Inverter & SLA/LiFePO4 Charger 48V 3000VA 35A - 16A PMP483020001
Victron Energy
48
258
362
218
VEICMP-48/3000/35-50
MultiPlus Inverter & SLA/LiFePO4 Charger 48V 3000VA 35A PMP483021010
Victron Energy
48
258
362
218
VEICMP-48/5000/70-100
MultiPlus Inverter & SLA/LiFePO4 Charger 48V 5000VA 70A PMP485021010
Victron Energy
48
328
444
240
VEICMP-48/500/6-16
MultiPlus Inverter & SLA/LiFePO4 Charger 48V 500VA 6A -16A Transfer Switch PMP481500000
Victron Energy
48
182
311
100
VEICMP-48/800/9
MultiPlus Inverter & SLA/LiFePO4 Charger 48V 800VA 9A PMP481800000
Victron Energy
48
240
360
100
VEICMPC-12/1200/50-16
MultiPlus Compact Inverter & SLA/LiFePO4 Charger 12V 1200VA 50A- 16A CMP121220000
Victron Energy
12
214
375
110
VEICMPC-12/1600/70-16
MultiPlus Compact Inverter & SLA/LiFePO4 Charger 12V 1600VA 70A- 16A CMP121620000
Victron Energy
12
214
375
110
VEICMPC-12/2000/80
MultiPlus Compact Inverter & SLA/LiFePO4 Charger 12V 2000VA 80A - 30A CMP122200000
Victron Energy
12
255
420
125
VEICMPC-12/800/35
MultiPlus Compact Inverter & SLA/LiFePO4 Charger 12V 800VA 35A CMP128010000
Victron Energy
12
214
375
110
VEICMPC-24/1200/25-16
MultiPlus Compact Inverter & SLA/LiFePO4 Charger 24V 1200VA 25A - 16A CMP241220000
Victron Energy
24
214
375
110
VEICMPC-24/1600/40-16
MultiPlus Compact Inverter & SLA/LiFePO4 Charger 24V 1600VA 40A - 16A CMP241620000
Victron Energy
24
214
375
110
VEICMPC-24/2000/50-30
MultiPlus Compact Inverter & SLA/LiFePO4 Charger 24V 2000VA 50A - 30A CMP242200000
Victron Energy
24
255
420
125
VEICMPC-24/800/16
MultiPlus Compact Inverter & SLA/LiFePO4 Charger 24V 800VA 16A CMP248010000
Victron Energy
24
214
375
110