Phoenix Charger Range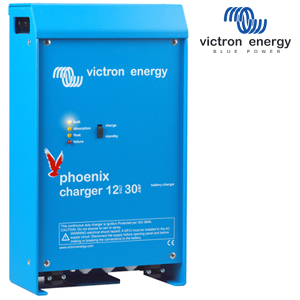 The Phoenix charger, by Vicron Energy, features a microprocessor controlled adaptive battery management system that can be pre-set to suit different types of batteries. The adaptive feature will automatically optimise the charge process relative to the way the battery is being used.

Adaptive 4-stage charge characteristic: bulk - absorption - float - storage. Two full rated outputs and one 4 Amp output. Universal input 90-265V, 50/60Hz.
The Phoenix range works seamlessly with the wider range of Victron products and can be easily integrated into power systems of varying sizes.
See sample system schematic here
Image
Model No
Sort
Size
Sort
Description
Brand
Sort
Volts
(V)
Sort
Diameter/
Width
(mm)
Sort
Height
(mm)
Sort
Length/
Breadth/
Depth/
(mm)
Sort
Weight
(g)
Sort
Anti-Islanding Box 63A
Victron Energy Anti-Islanding Box 63A Single and Three Phase RCD000300200
Victron Energy
449.5
278.8
147.9
CSE000100000
AC Current Sensor - 1 phase - max 40A
Victron Energy
CTR110000500
Current Transformer 100A:50mA for MultiPlus-II
Victron Energy
EM24
Energy Meter EM24 - 3 phase - max 65A / Phase REL200200100
Victron Energy
75
120
100
ET112
Energy Meter ET112 - 1 phase - max 100A REL300100000
Victron Energy
ET340
Energy Meter ET340 - 3 phase - max 65A / Phase REL300300000
Victron Energy
FILAX 2
FILAX 2 Transfer Switch 230V/50Hz-240V/60Hz 16A Rated SDFI0000000
Victron Energy
75
120
255
800
MK2-USB VICTRON
Phoenix Charger Connection Interface to PC ASS030130010
Victron Energy
Phoenix Charger Control
LED Power Panel for Phoenix Chargers with Charge Current Adjust REC010001110
Victron Energy
65
40
120
RS485 to USB interface
RS485 to USB interface 1.8m Length ASS030572018
Victron Energy
1800
Temperature Sensor Type C
Temperature Sensor for RS Inverters & MPPT's ASS000020000
Victron Energy
Temperature Sensor for Venus GX
Temperature Sensor for QUATTRO/MULTIPLUS/Venus GX ASS000001000
Victron Energy
UFR1001E
UFR1001E Anti-islanding Relay REL100100000
Victron Energy
90
69
105
350
VE TRANSFER 10KVA
Victron Energy Transfer Switch 10KVA, 1ph, 200-250Vac
Victron Energy
215
175
120
VE TRANSFER 5KVA
Victron Energy Transfer Switch 5KVA, 1ph, 200-250Vac COS230502100
Victron Energy
215
175
120
VECIP43-12/30-1+1
30A
Phoenix Smart IP43 SLA/LiFePO4 Charger 12V 30A (1+1) 230V PSC123051085
Victron Energy
12
100
180
249
3500
VECIP43-12/30-3
30A
Phoenix Smart IP43 SLA/LiFePO4 Charger 12V 30A (3 output) 230V PSC123053085
Victron Energy
12
100
180
249
3500
VECIP43-12/30A-1+1
30A
Phoenix Smart IP43 SLA/LiFePO4 Charger 12V 30A (1+1) 120-240V PSC123051095
Victron Energy
12
100
180
249
2700
VECIP43-12/30A-3
30A
Phoenix Smart IP43 SLA/LiFePO4 Charger 12V 30A 3 Output 120-240V PSC123053095
Victron Energy
12
100
180
249
2700
VECIP43-12/50-1+1
50A
Phoenix Smart IP43 SLA/LiFePO4 Charger 12V 50A (1+1 output) 230V PSC125051085
Victron Energy
12
100
180
249
3500
VECIP43-12/50-3
50A
Phoenix Smart IP43 SLA/LiFePO4 Charger 12V 50A (3 output) 230V PSC125053085
Victron Energy
12
100
180
249
3500
VECIP43-12/50A-1+1
50A
Phoenix Smart IP43 SLA/LiFePO4 Charger 12V 50A (1+1) 120-240V PSC125051095
Victron Energy
12
116
180
249
2700
VECIP43-12/50A-3
50A
Phoenix Smart IP43 SLA/LiFePO4 Charger 12V 50A 3 Output 120-240V PSC125053095
Victron Energy
12
100
180
249
2700
VECIP43-24/16-1+1
16A
Phoenix Smart IP43 SLA/LiFePO4 Charger 24V 16A (1+1 output) 230V PSC241651085
Victron Energy
24
100
180
249
3500
VECIP43-24/16-3
16A
Phoenix Smart IP43 SLA/LiFePO4 Charger 24V 16A (3 output) 230V PSC241653085
Victron Energy
24
100
180
249
3500
VECIP43-24/16A-1+1
16A
Phoenix Smart IP43 SLA/LiFePO4 Charger 24V 16A (1+1 output) 120-240V PSC241651095
Victron Energy
24
100
180
249
3500
VECIP43-24/25-1+1
25A
Phoenix Smart IP43 SLA/LiFePO4 Charger 24V 25A (1+1 output) 230V PSC242551085
Victron Energy
24
100
180
249
3500
VECIP43-24/25-3
25A
Phoenix Smart IP43 SLA/LiFePO4 Charger 24V 25A (3 output) 230V PSC242553085
Victron Energy
24
100
180
249
3500
VECIP43-24/25A-1+1
25A
Phoenix Smart IP43 SLA/LiFePO4 Charger 24V 25A (1+1 output) 120-240V PSC242551095
Victron Energy
24
100
180
249
3500
VECIP43-24/25A-3
25A
Phoenix Smart IP43 SLA/LiFePO4 Charger 24V 25A (3 output) 120-240V PSC242553095
Victron Energy
24
100
180
249
3500
VECIP43-PWR
Mains Cord AU/NZ for Smart IP43 / Skylla-S Charger 2 Metres ADA010100300
Victron Energy
2000
VECP-12/30
12V 30A Phoenix SLA Charger with M6 Connection PCH012030001
Victron Energy
12
200
350
108
3800
VECP-12/50
12V 50A Phoenix SLA Charger with M6 Connection PCH012050001
Victron Energy
12
200
350
108
3800
VECP-24/16
24V 16A Phoenix SLA Charger with M6 Connection PCH024016001
Victron Energy
24
200
350
108
3800
VECP-24/25
24V 25A Phoenix SLA Charger with M6 Connection PCH024025001
Victron Energy
24
200
350
108
3800