Quattro Inverter Chargers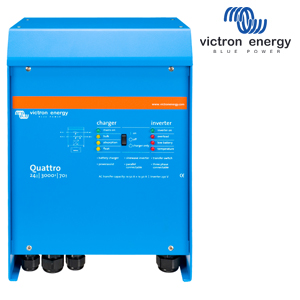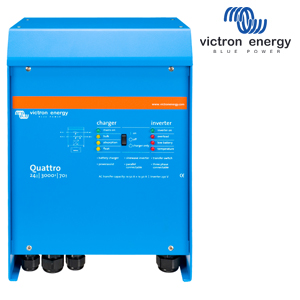 Similar to the MultiPlus, the
Quattro
is also a combined inverter and charger. Additionally it can accept two AC inputs and automatically connect to the active source. Its many features include a true sine wave inverter, adaptive charging, hybrid PowerAssist technology plus multiple system integration features such as three or split phase operation and parallel operation.
Features include:
Two AC Inputs & two AC Outputs that can be connected to two independent AC sources, for example shore-side power and a generator, or two generators.
The PowerAssist feature which prevents overload of a limited AC source, such as a generator or shore power connection.
Virtually unlimited power thanks to parallel operation allowing up to 6 Quattros to operate in parallel to achieve higher power output.
Uninterrupted AC power (UPS function) which in the event of a grid failure, or when shore or generator power is disconnected, the inverter within the Multi is automatically activated and takes over the supply to the connected loads.
Remote Monitoring and Control allowing you to control your MultiPlus and system or systems' locally (LAN) or remotely via the internet from anywhere in the world, using the free VRM app and free VRM portal website .
Image
Model No
Sort
Description
Brand
Sort
Volts
(V)
Sort
Diameter/
Width
(mm)
Sort
Height
(mm)
Sort
Length/
Breadth/
Depth/
(mm)
Sort
Weight
(g)
Sort
VEICQ-12/3000/120
Quattro Inverter & SLA/LiFePO4 Charger 12V 3000VA 120A QUA123020010
Victron Energy
12
258
362
218
19000
VEICQ-12/5000/220
Quattro Inverter & SLA/LiFePO4 Charger 12V 5000VA 220A QUA125020000
Victron Energy
12
328
444
240
30000
VEICQ-24/3000/70
Quattro Inverter & SLA/LiFePO4 Charger 24V 3000VA 70A QUA243020010
Victron Energy
258
362
218
19000
VEICQ-24/5000/120
Quattro Inverter & SLA/LiFePO4 Charger 24V 5000VA 120A QUA245021010
Victron Energy
24
328
444
240
30000
VEICQ-24/8000/200
Quattro Inverter & SLA/LiFePO4 Charger 24V 8000VA 200A QUA248020010
Victron Energy
24
350
470
280
45000
VEICQ-48/10000/140
Quattro Inverter & SLA/LiFePO4 Charger 48V 10000VA 140A - 100A QUA481030010
Victron Energy
48
350
470
280
45000
VEICQ-48/15000/200
Quattro Inverter & SLA/LiFePO4 Charger 48V 15000VA 200A - 100A QUA483150000
Victron Energy
48
488
572
344
72000
VEICQ-48/5000/70
Quattro Inverter & SLA/LiFePO4 Charger 48V 5000VA 70A - 100A QUA485021010
Victron Energy
450
520
340
33200
VEICQ-48/8000/110
Quattro Inverter & SLA/LiFePO4 Charger 48V 8000VA 110A QUA488024000
Victron Energy
48
350
470
280
41000
VEICQII-48/5000/70-50/50
Quattro-II Inverter & SLA/LiFePO4 Charger 48V 5000VA 70A - 50A QUA482504010
Victron Energy
328
560
148
30000