The Solder Master range of Lithium Ion, Battery Powered Cordless Soldering Irons are an Australian engineered professional tool designed to provide powerful, reliable & hassle-free soldering for a diverse array of industries.
The ergonomic body and fast heat-up makes Solder Master ideal for Telco's, Security companies, Auto electricians, Car stereo installers and many more.
Cord Free, Flame Free, Fuel Free & Hassle Free.
Solder Master gives you ultimate flexibility in soldering with a Lithium Ion battery powered soldering iron. Providing up to 270 minutes[1] use from a single charge - lasting up to one month with professional use. The Solder Master takes just 10 seconds to get up to temperature! Great for professional or handyman use; for those quick repair jobs to any general purpose soldering task.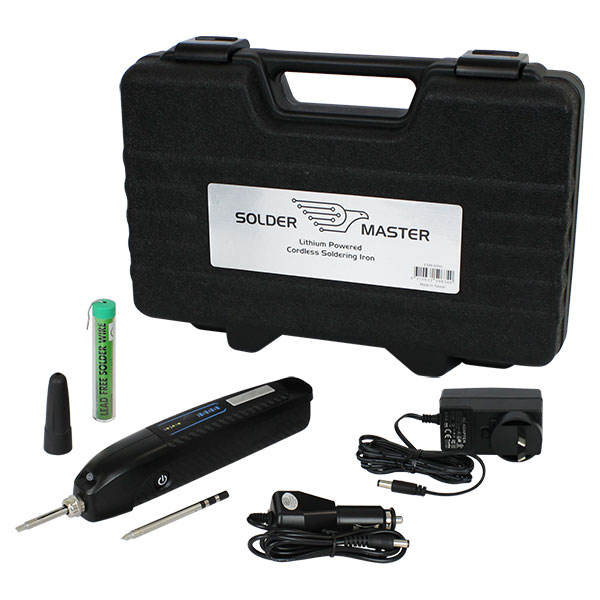 Product Information:



Solder Master ESM-50WL Flyer

Solder Master FAQ's
Solder Master Advertisement

Silicon Chip Magazine Review

Image
Model No
Sort
Description
Brand
Sort
Diameter/
Width
(mm)
Sort
Height
(mm)
Sort
Length/
Breadth/
Depth/
(mm)
Sort
Weight
(g)
Sort
1LF41-200G
Solder Wire Roll 200g Lead Free Super Flux Cored 1mm Diameter
Solder Master
50
37
200
9SN-310G
Pro's Kit Solder Wire Roll 15g (Pen - Tube) - Lead Free 1mm Type
Solder Master
15
ESM-50WL
Lithium Ion Powered Cordless Soldering Iron Kit
Solder Master
37.8
52
235
FCA-015-S18-I
16.8VDC 0.89A Wall Mount Type 4 Cell LiIon Battery Charger with 2.1mm DC Output. Interchangeable AC Plugs.
Ionix
42.8
30
106.6
103
LIC-DC1681000C
12VDC Input to 1A Output 4 cell 16.8V LiIon/LiPo Battery Charger with 2.5mm DC Plug
KRECO
38
29
89
51
WQD-2B-M
2B 0.5mm x 10mm Conical Type Lead Free Soldering Tip with Heating Cartridge
Solder Master
WQD-4D-M
4D 4mm x 4mm Bevel Type Fast Heat Up Soldering Tip with Heating Cartridge
Solder Master