Drypower Dual Purpose AGM
We are excited to announce the addition of a High Performance Dual Purpose Starting & Deep Cycle AGM battery to the Drypower suite of products...
The new Drypower Dual Purpose High Performance AGM battery range combines the best elements of a high performance starting battery with the durability and high reliability of a deep cycle battery to provide maintenance free service for applications such as marine starting & storage, dual battery systems in 4WD and commercial vehicles, RV & caravan installs and stand-alone back-up or solar systems.
Featuring 4 models in industry standard footprints, the range offers huge possiblitlies and fitment options.
Features & Benefits
Maintenance free, non-spillable design for hassle-free installation and service life.
Dual Terminal setup (AUTO POST and STUD) designed to provide secure and reliable connections between the battery and auxiliary power loads.
Exceptional Cranking/Starting power with better cold start performance when compared to conventional lead acid batteries.
True Deep Cycle capability to provide reliable power to house power demands, accessory loads or even trolling motor use.
Vibration Proof design and rated for Under-Bonnet Auxiliary use.
Integrated Ergonomic carry handle for safe handling and installation.
Lower self-discharge performance compared to conventional batteries means longer shelf or storage life.

Dual Terminal setup (AUTO POST and STUD)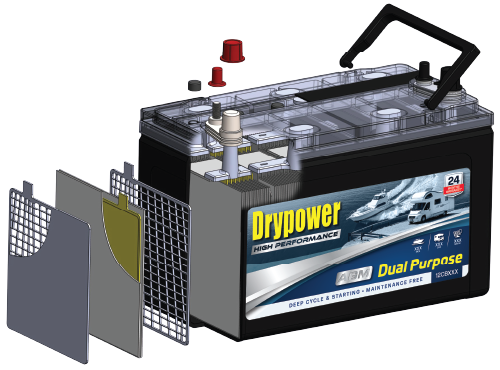 Superior Construction:
Cast-on-Strap (COS) manufacture process providing a thicker cast for more consistent cell assembly, improved discharge performance and lower electrical resistance to promote longer service life
Flame arrester safety system to mitigate leakage, prevent dust exposure and minimise spark related issues
Rugged UL94HB ABS casing, vibration & explosion proof tested to JIS C 8702:2009 & 8701:2006
Enhanced Nanoscale carbon formula plate paste to reduce water loss and improves charge acceptance for superior performance and cycle life
Hi-tech AGM separator can absorb and trap electrolyte perfectly preventing loss whilst promoting conductivity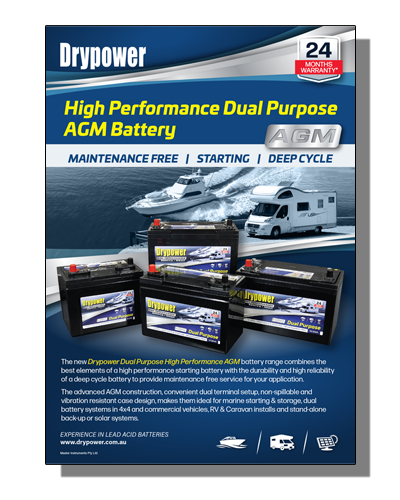 Download the flyer