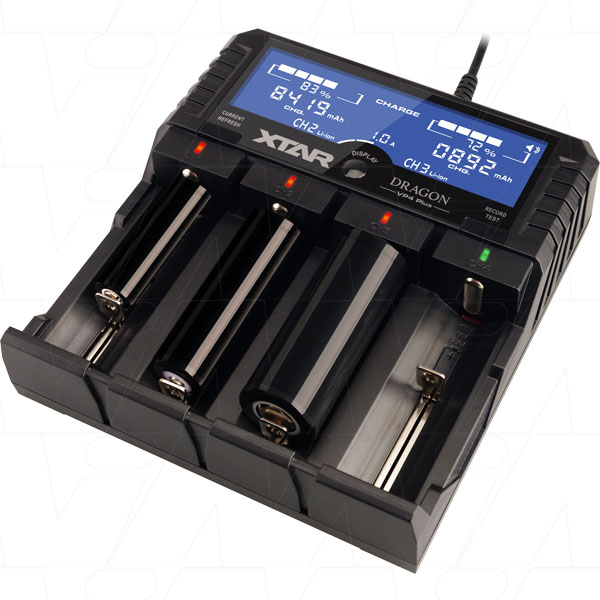 XTAR VP4 Plus
DRAGON 1-4 cell Lithium Ion/NiMH battery charger with real time LCD display, battery internal resistance testing function and USB output
XTAR VP4 Plus DRAGON intelligent multi-functional LiIon & NiMH battery charger featuring:
Battery charging - compatible with almost all sizes of single cell LiIon or NiMH/NiCd batteries.
Battery charging - includes charge port for 11.1V/3S battery packs.
Battery test mode - Charge > Discharge > Charge. Accurately test real capacity of your batteries.
Battery refresh mode - Discharge > Charge. Eliminate memory effect of NiMH batteries.
Powerbank (USB output charging) - 2.4A max output suitable for charging 5V USB devices.
Charging Parameters:
Input: 12VDC 3.0A
0.5A Constant Current Output: 500mA x 4
1.0A Constant Current Output: 1000mA x 4
2.0A Constant Current Output: 2000mA x 4
Cut-off Voltage:

LiIon: 4.2V±0.05V
NiMH/NiCd: 1.45V±0.1V

USB output: 5VDC 2.4A max.
11.1V/3S battery pack charging: 1000mA
Operating temp: 0-40°C
Other Features:
Three user selectable charge current options: 0.5A, 1.0A or 2.0A.
Charge up to four 32650/D size batteries at the same time.
Using the test function with the included test cables, determine battery's internal resistance - lower internal resistance can equal better performance.
Built in micro memory card automatically saves up to 64 test records of discharging and charging capacity after each TEST cycle.
Select REFRESH mode to eliminate any existing memory effect in NiMH batteries.
Automatically selects suitable charging current for USB devices connected to the VP4 Plus USB output port.
Charge single cell batteries, battery packs and USB devices SIMULTANEOUSLY when the VP4 Plus is connected to mains power.
High quality LCD screen displays heaps of information: charging current, battery status, battery capacity percentage, battery types and channels, battery voltage and resistance and much more.
Alerts sound when there is an error or charging/test process is complete.
Easy to use, consumer friendly user interface.
Innovative design allows maximum heat dissipation during fast charging.
0V battery activation.
Reverse polarity and short circuit protection, flame retardant case, temperature monitoring, extra low safe input voltage.
2 years warranty.
The VP4 Plus comes with:
VP4 Plus charger
Charger pouch
1 pair test probes
12VAC 3A adaptor
12VDC 3A car adaptor
Manual and warranty card
---