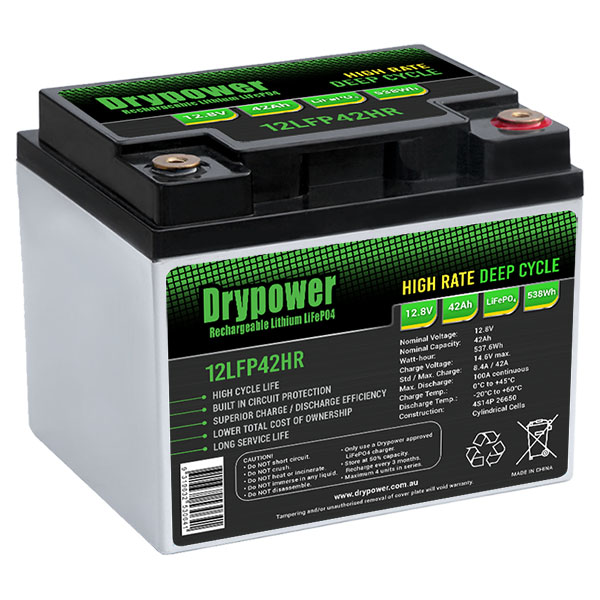 Drypower 12LFP42HR
12.8V 42Ah lithium iron phosphate (LiFePO4) rechargeable battery, max 100A discharge
12V Lithium Iron Phosphate battery. Ideal for sealed lead battery replacement
4S14P-Cylindrical Construction
HIGH RATE DISCHARGE MODEL -100A continuous discharge capable
Specifications:
Cycle life: >2000 cycles (100% DoD to 80% of original capacity) @ 25°C
Max. continuous discharge current: 100A
Charge voltage: 14.2V - 14.6V (14.2V recommended)
Standard charge current: 8.4A
Max. cont. charge current: 42A
Operating Discharge temperature: -20°C to +60ºC
Operating Charge temperature: +0°C to +45ºC
Storage temperature: -20°C to +45ºC
Operating Humidity (non-condensing): 5%-85%
Series Connection: Up to 4S
Parallel Connection: Nil
Suitable for:
Medical Trolleys & Patient Movers & Hoists
Deep Cycle SLA replacement (ie. Mobility that draws 100A or under)
AGV's
Higher Drain Motor driven applications (such as portable pallet wrappers or Power Driven Davit's)
Water Management (Flume Gates)
Recommended Chargers:
---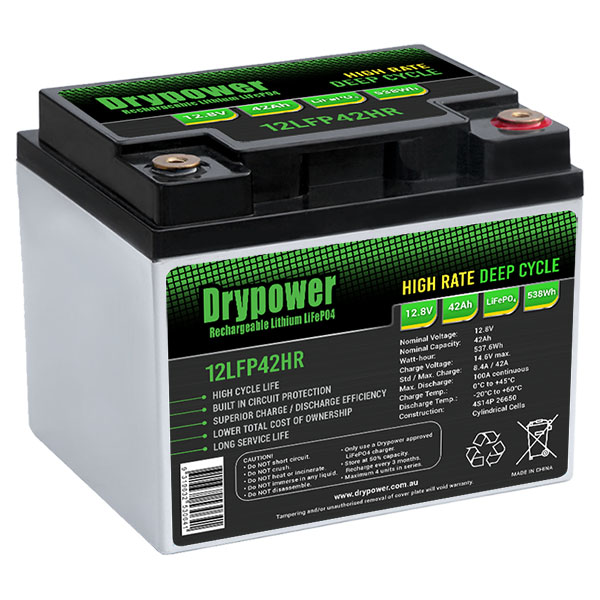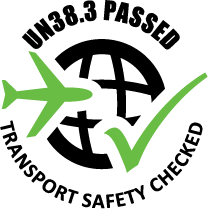 This product is certified to UN38.3
This battery has been tested & complies with the UN Model Regulation, Manual of Test & Criteria, Part III, Subsection 38.3
Features & Benefits

Long Service Life
>2000 cycles @100% DoD (25°C) to 80% of original capacity - longer service life than SLA to reduce maintenance costs.

High Energy Density - More Power p/kg
Higher total system capacity and superior utilisation (full 100% DoD) to reduce overall system size and footprint.

Robust Enclosure
Enclosed in IP5x (dust resistant) or IP6x (dust tight) case with closed loop terminals - suitable for harsh environments.

Stable Chemistry & Built-in Circuit Protection
IEC & UN38.3 Safety Certified at cell level and integrated BMS protection to ensure safety and prevent damage.

Lightweight
Approx. 1/2 the weight (or less) of equivalent in SLA means lower logistics costs and minimal OH&S concerns.

Superior Charge & Discharge Efficiency
Faster charge/discharge rates (C/2 LiFePO4 vs C/20 SLA) for higher power usage and less downtime when charging.

Wide Operating Temperature Tolerance
Suitable for use in a wider range of applications where ambient temperature is atypical: from -20°C up to +60°C.

Fully Recyclable Battery
An environmentally friendly battery option, with no lead or calcium that can leak into the enviroment.

View the Drypower Resources Page featuring VRLA/GEL Battery Cross Reference, Drypower Lithium Specification chart, Termination Guides, Terminal Protectors & Connectors (Busbar) guide, and more.


SHIPPING RESTRICTIONS APPLY
Due to IATA and individual airline regulations, this item may only be shipped by surface (road/sea) freight.
UN3480 FULLY DECLARED CLASS 9 DANGEROUS GOODS LITHIUM ION BATTERIES - Contains cells/batteries packed in accordance with Packing Instruction P903 from ADG 7.7 & IMDG Code 2020. Surcharges will apply.
Further information on freight & postal regulations for lithium / lithium-based and other battery chemistries can be found on our battery transportation page.