Blue Smart Range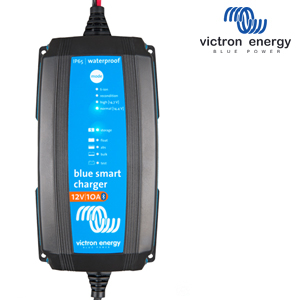 The Blue Smart range of battery chargers from Victron Energy are all Bluetooth enabled to provide you full control, in the palm of your hand.

Equipped with bluetooth, the status of your charger and the battery can be checked on a smartphone, tablet or laptop and all settings of the charger can be configured with the VictronConnect app.

The seven-step charging algorithm gets the best out of your battery. The charger gives the battery the power it needs, maintains its health, ensures better performance... and a longer life.

Unlike other brands, the Blue Smart range will attempt to recharge a deeply-discharged battery by force-feeding it with a low current. Normal charging will then be resumed as soon as there is sufficient voltage across the battery terminals.

With IP22, IP65 and IP67 models available, the Blue Smart range provides a professional charging solution for most applications.
Image
Model No
Sort
Size
Sort
Description
Brand
Sort
Volts
(V)
Sort
Diameter/
Width
(mm)
Sort
Height
(mm)
Sort
Length/
Breadth/
Depth/
(mm)
Sort
Weight
(g)
Sort
MAGCODE POWER CLIP
MagCode Power Clip 12V (max. 15A) suitable for Blue Smart IP65 Chargers
Victron Energy
MAGCODE POWER PORT
MagCode Power Port 12V (max. 15A) suitable for Blue Smart IP65 Chargers
Victron Energy
VECIP22-12/15-1
15A
Blue Smart IP22 SLA/LiFePO4 Charger 12V 15A Single Output Fan Assisted BPC121542012 (AU/NZ Plug)
Victron Energy
12
65
235
108
1300
VECIP22-12/15-3
15A
Blue Smart IP22 SLA/LiFePO4 Charger 12V 15A Triple Output Fan Assisted BPC121544012 (AU/NZ Plug)
Victron Energy
12
65
235
108
1300
VECIP22-12/20-1
20A
Blue Smart IP22 SLA/LiFePO4 Charger 12V 20A Single Output Fan Assisted BPC122044012 (AU/NZ Plug)
Victron Energy
12
65
235
108
1300
VECIP22-12/20-3
20A
Blue Smart IP22 SLA/LiFePO4 Charger 12V 20A Triple Output Fan Assisted BPC122044012 (AU/NZ Plug)
Victron Energy
12
65
235
108
1300
VECIP22-12/30A-1
30A
Blue Smart IP22 SLA/LiFePO4 Charger 12V 30A Single Output Fan Assisted BPC123047012 (AU/NZ Plug)
Victron Energy
12
65
235
108
1300
VECIP22-12/30A-3
30A
Blue Smart IP22 SLA/LiFePO4 Charger 12V 30A Triple Output Fan Assisted BPC123048012 (AU/NZ Plug)
Victron Energy
12
65
235
108
1300
VECIP22-24/16-1
16A
Blue Smart IP22 SLA/LiFePO4 Charger 24V 16A Single Output Fan Assisted BPC241642012 (AU/NZ Plug)
Victron Energy
24
65
235
108
1300
VECIP22-24/16-3
16A
Blue Smart IP22 SLA/LiFePO4 Charger 24V 16A Triple Output Fan Assisted BPC241648012 (AU/NZ Plug)
Victron Energy
24
65
235
108
1300
VECIP22-24/16A-1
16A
Blue Smart IP22 SLA/LiFePO4 Charger 24V 16A Single Output Fan Assisted BPC241647012 (AU/NZ Plug)
Victron Energy
24
65
235
108
1300
VECIP22-BLT-M6
2.4 metre Bootlace to M6 lead ring terminal lead with 30Amp blade fuse for IP22 12/15 Blue Smart Chargers
Victron Energy
2400
VECIP22-BLT-M8
2.4 metre Bootlace to M8 lead ring terminal lead with 30Amp blade fuse for IP22 12/15 Blue Smart Chargers
Victron Energy
2400
VECIP65-12/10
10A
Blue Smart IP65 SLA/LiFePO4 Charger 12V 10A + Alligator Clips & M8 Eyelets BPC121031014R (AU/NZ Plug)
Victron Energy
12
105
60
190
900
VECIP65-12/15
15A
Blue Smart IP65 SLA/LiFePO4 Charger 12V 15A + Alligator Clips & M8 Eyelets BPC121531014R (AU/NZ Plug)
Victron Energy
12
105
60
190
900
VECIP65-12/25
25A
Blue Smart IP65 SLA/LiFePO4 Charger 12V 25A + Alligator Clips & M8 Eyelets BPC122531014 (AU/NZ Plug)
Victron Energy
12
140
75
240
1900
VECIP65-12/4
4A
Blue Smart IP65s SLA/LiFePO4 Charger 12V 4A + Alligator Clips & M8 Eyelets BPC120433014R (AU/NZ Plug)
Victron Energy
12
81
45
182
900
VECIP65-12/5
5A
Blue Smart IP65s SLA/LiFePO4 Charger 12V 5A + Alligator Clips & M8 Eyelets BPC120533014R (AU/NZ Plug)
Victron Energy
12
81
45
182
900
VECIP65-12/7
7A
Blue Smart IP65 SLA/LiFePO4 Charger 12V 7A + Alligator Clips & M8 Eyelets BPC120731014R (AU/NZ Plug)
Victron Energy
12
95
47
190
900
VECIP65-12V
Lead to Auto Cigarette Plug with 16A auto fuse BPC900300004
Victron Energy
VECIP65-12V CIG
Lead to Auto Cigarette Plug with 16A auto fuse BPC900300014
Victron Energy
VECIP65-12V CLAMP
Lead to Alligator Clips with 30A auto blade fuse BPC900400014
Victron Energy
VECIP65-24/13
13A
Blue Smart IP65 SLA/LiFePO4 Charger 24V 13A + Alligator Clips & M8 Eyelets BPC241331014 (AU/NZ Plug)
Victron Energy
24
140
75
240
1900
VECIP65-24/5
5A
Blue Smart IP65 SLA/LiFePO4 Charger 24V 5A + Alligator Clips & M8 Eyelets BPC240531014R (AU/NZ Plug)
Victron Energy
24
95
47
190
900
VECIP65-24/8
8A
Blue Smart IP65 SLA/LiFePO4 Charger 24V 8A + Alligator Clips & M8 Eyelets BPC240831014R (AU/NZ Plug)
Victron Energy
24
105
60
190
900
VECIP65-6-12/1.1
1.1A
Blue Smart IP65 SLA/LiFePO4 Charger & Maintainer - Auto Voltage 6V/12V 1.1A + Alligator Clips, M8 Eyelets & Power port plug BPC120134014R
Victron Energy
6/12
63
36
150
VECIP65-APP30
Lead to PP30 Anderson Style Red/Black Connector (15A Max) BPC900100004APP30
Victron Energy
400
VECIP65-ASB50
Lead to SB50 Anderson Style Connector (15A Max) BPC900100004ASB50
Victron Energy
400
VECIP65-BIE
Battery Indicator Eyelet to M8 Eyelet Connector with 30A Auto Blade Fuse BPC900120114
Victron Energy
VECIP65-BIP
Battery Indicator Panel to M8 Eyelet Connector with 30A Auto Blade Fuse BPC900110114
Victron Energy
VECIP65-BUMPER
Rubber bumper for 12/10, 12/15 & 24/8 Blue Smart IP65 Chargers BPC920100100
Victron Energy
VECIP65-BUMPER LARGE
Rubber bumper for 12/25 & 24/13 Blue Smart IP65 Chargers BPC920100110
Victron Energy
VECIP65-CASE
Carry Case for Blue Smart IP65 Chargers and accessories BPC940100100
Victron Energy
350
295
105
1100
VECIP65-CASE-12/25
Large Carry Case for Blue Smart IP65 12/25 & 24/13 range of Chargers and accessories BPC940100200
Victron Energy
520
345
130
VECIP65-CLAMP
Lead to Alligator Clips with 30A auto blade fuse BPC900400004
Victron Energy
VECIP65-EXT
2 Metre Extension Cable Connection BPC900200004
Victron Energy
VECIP65-M6
M6 Lead to eyelet connector with 30A auto blade fuse BPC900100014
Victron Energy
VECIP65-M8
M8 Lead to eyelet connector with 30A auto blade fuse BPC900110014
Victron Energy
VECIP65-MOUNT
Wall Mount for 12/10, 12/15, 24/8 Blue Smart IP65 Chargers BPC920100200
Victron Energy
VECIP65-MSG
Mode Button Safeguard Protective cover for use with Victron Energy Blue Smart IP65 Chargers
Victron Energy
21
3
35
2
VECIP65-XLR
Lead to XLR 3-Pin connector with 30A auto blade fuse BPC900100004XLR. Positive = RED, Negative = BLACK
Victron Energy
VECIP67-12/13
13A
Blue Smart IP67 SLA/LiFePO4 Waterproof Charger 12V 13A BPC121347016
Victron Energy
12
60
85
211
1800
VECIP67-12/17
17A
Blue Smart IP67 SLA/LiFePO4 Waterproof Charger 12V 17A BPC121713016
Victron Energy
12
65
99
219
2400
VECIP67-12/25
25A
Blue Smart IP67 SLA/LiFePO4 Waterproof Charger 12V 25A BPC122547016
Victron Energy
12
65
99
219
2400
VECIP67-12/7
7A
Blue Smart IP67 SLA/LiFePO4 Waterproof Charger 12V 7A BPC120713016
Victron Energy
12
60
85
211
1800
VECIP67-24/12A
12A
Blue Smart IP67 SLA/LiFePO4 Waterproof Charger 24V 12A BPC241247016
Victron Energy
24
65
99
219
2400
VECIP67-24/5
5A
Blue Smart IP67 SLA/LiFePO4 Waterproof Charger 24V 5A BPC240547016
Victron Energy
24
60
85
211
1800
VECIP67-24/8
8A
Blue Smart IP67 SLA/LiFePO4 Waterproof Charger 24V 8A BPC240847016
Victron Energy
24
65
99
219
2400