Industrial Market Solutions
What we offer (Industrial Solutions)
Master Instruments Pty Limited focuses on portable/micro batteries and battery related products such as chargers, power supplies, DC conversion and Battery fleet management products. The company specializes in the development, production and marketing of innovative and advanced energy solutions and power components for a wide range of customers, business sectors and applications. We have the capability to provide off-the-shelf as well as custom design solutions for almost any application.
The company offers a wide range of battery technologies such as Primary (Alkaline, Czn, Lithium variants & Zinc Air) and Rechargeable (LiIon, LiFePO4, LiPoly, NiCd, NiMH, SLA and special and new battery technologies). The battery packs can be designed to either our or your specifications with Safety protection components, PCM/BMS, Fuel Gauge Indicators, Converters, Smart and SMBus communication modules as required. 2D and 3D CAD design capability and best in class DC power engineers are able to flexibly and quickly adapt your design into product realisation first on paper and in your possession as quick samples or prototypes before production.
For medical, defence, utilities applications and OEM companies; the company develops, designs, manufactures and provides custom made smart DC power solutions for electronic devices. This is also done for Public Utilities, Universities, Research organisations, Railway signalling, ATMS (advanced traffic management systems), AMR (gas, electric, water), LMR (Land & Mobile Radio), CCTV video surveillance security systems, Renewable energy controllers, UPS, Communications, Security (alarm, control, detectors), E-Bike & too many other applications to possibly list all of them.
The company designs systems which include advanced battery technologies, such as energy efficient LiFePO4, LiIon and other special chemistries, controlled by smart electronics and embedded software to best fit Applications.
The ideal is for our products to reduce our clients "total ownership cost" by providing an extension to the operating life of products with hundreds and even thousands of charge/discharge cycles. This total cost of ownership argument idealism means "it always pays in the end to buy the best at the beginning".
Centuries of culminated experience and expertise of our motivated & passionate team enables the provision of the perfect solution to meet you - our important customer's power needs. Throughout the project phases, starting with development phase through prototype phase and finally to manufacturing phase, all steps are taken under a tightly controlled project schedule with close technical support. The company's knowhow helps in bridging the gap between the customer demands to the up-to-date products and technologies available for the right solution in the portable power industry.
Master Instruments Ltd provides turn-key power projects, complete energy solutions for standalone power systems, as well as consulting, testing, design, assembly and marketing of a wide range of batteries, power supplies, chargers, power components and hardware. Whether it be upgrading lead acid to lithium in roadside device UPS solutions to AS/NZS5715-2015 or designing turn-key solutions for flume/sluice water flow managment, the chances are we may have the latest energy storage solution available and able to then help systems integrate in working closely with our clients at the applications end.
Portable Power Solution Provider involving photovoltaic modules (Solar Panels) down to the battery and anything in between. There is a difference between "compatible" and "supported" solutions. One involves little technical support and the other comes with all the engineering & technical support that is required to get the most value out of your energy storage. We at MI like to be in the latter category where our solutions are ones we would use & thus recommend ourselves. It's all about maximising the TCO (Total Cost of Ownership) advantages we can provide to our valued clients.
Development Flow of OEM / ODM Products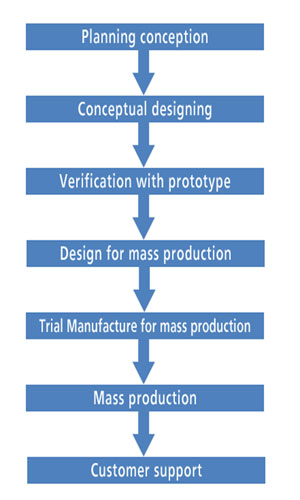 Based on digital imaging technology, we produce products customers want by utilizing a coherent development system ranging from product planning to manufacturing. We set a goal to minimize lead times so that customers can introduce their products at the optimum timing and realisation of opportunity windows for marketing purposes. We also strive to supply safe, high-quality products that secure from risks for end users.
After gaining a complete understanding of what customers want from their products, we propose optimum specifications to enable these requirements to be realized. An outline of a development schedule and costs will be confirmed at this point of the proposal preparation process.
We conduct software-based simulation prior confirmation to judge the feasibility of planned products and, at the same time, carry out broad structure investigations utilizing 3D design techniques so that customers are able to grasp the well balanced product image.
In order to receive customers' confirmation of the basic operation and performance required, we prepare a working sample for customer evaluation.
We begin developing the design for mass production at the point where customers' agreement has been obtained regarding the specifications for commercialization and product quality standards.
Based on the "golden sample" design for mass production, we proceed to trial manufacture for mass production in order to check the product's functions and performance as well as determine an optimum mass production system. The F.O.B price is usually finalized at this point based on volumes.
We will strictly observe customers' desired delivery dates and assure high-quality production of the requested products. If necessary, we will have customers carry out a production audit.
After delivering the product, we will support customers within our responsibility in various areas including after-sales support and provision of information regarding updates. This support varied by customers.
Performance Trade-offs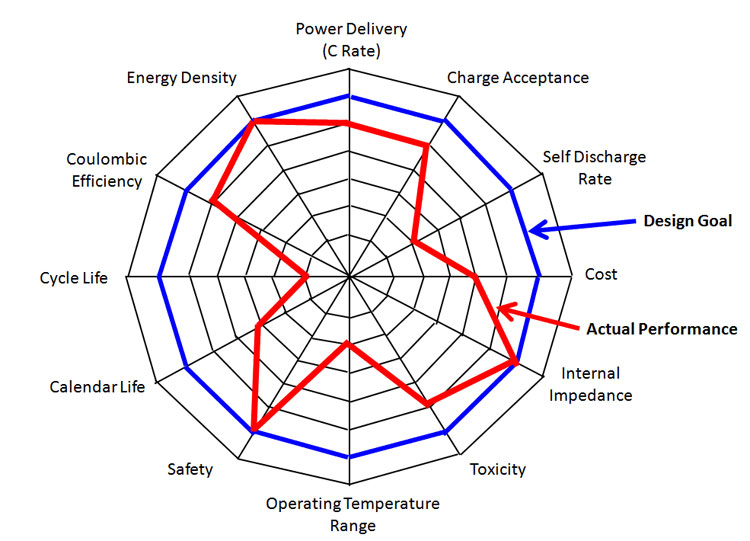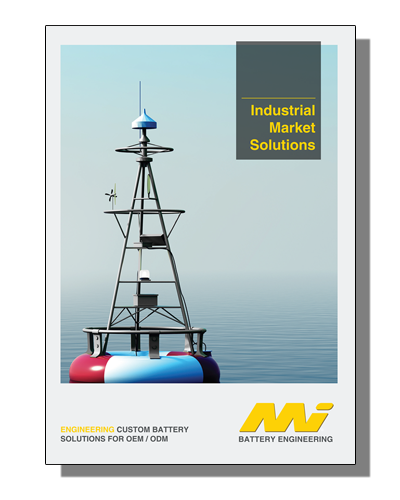 Industrial Market Solutions Brochure
Customers & Markets
Master Instrument's clients consist of leading companies in sectors of:
Defence & Security
Aerospace
Emergency Services
Lighting & Solar
Industrial Automation
Television & Broadcast
Medical & Health
Mining & Expolration
Agriculture & Water Technologies
Telecommunications
Auto & Marine
Start-up companies/Design houses
Electrical Wholesalers
Consumer replacement retailers
Specialty DC power retailers
Water & Power Utility providers
Education & training sectors
Universities & Research Centres
PLC & Robotics
Environmental Monitoring
DC UPS & Backup
Parking & Traffic Access
Access Control & Detection
ATEX Environments
Remote Telematics/SCADA
Railway Signalling
M2M & Surveillance
Waste Managemnt
Asset Tracking
Transport & Logistics
Internet of Things/Sensor
Metal Detecting
Road, Rail & Port Infrastructure Development
Underwater & Sub-Terrain
GPS & Wireless Communications
Animal & Vehicle Asset Tracking
Building & Construction
Renewables & Clean Energy
The company also supports:
Developers & Manufacturers
System Designers
Design Engineers
Design Houses
System Integrators
University Research
Pilot Programs
Renewable systems integrators
Smart City Solution providers
Customers & Producers of OEM products.