Customer Testimonials
In a ever evolving world driven by automated technology, competitive pricing and online competition, what is lacking is the traditional valued product & application knowledge & high levels of customer service.
We at Master Intruments strive to excel in our customer's service expectations & overall experience.
Below are feedback experiences & what our customers have to say about us:
---
Friday, 14 January 2021
The Drypower batteries are doing really well out there in our injectors around the world. We have seen a big improvement since we started using them in place of the Panasonics.
Mick Brooks, Head of Radiology R&D, Bayer
Tuesday, 14 December 2021
It has been a pleasure dealing with everyone at MI this year, and we're grateful for your support and responsiveness whenever we squeak
Clive Weatherhead, Battery Business
Tuesday, 31 August 2021
Wescor's solar panel & battery cabinet system means that i have:
Independent energy production (no feedback to grid)
Independent energy storage (batteries & generator)
Independent digital monitoring
Independent & easy management
Possibility to upgrade in future
Essentailly, I value my freedom and I believe that being forward thinking and investing in creative people is of paramount importance. Consultation with Wes (Wescor) enabled me to find the most appropriate solution for my property.
Mai-Lin Bardoux
Tuesday, 28 September 2021
VelectriX is a manufacturer and importer of electric bicycles, currently selling via a dealer network in Australia and NZ.
We purchased 2 West Mountain CBA IV units with amplifiers a couple of years back to be able to test the lithium batteries that the bikes are equipped with.
We have found them perfect for our needs. With many different test modes and the ability to create simple test reports, the CBA's are great.
The fact that the units are cheaper than most other units we looked at, is the icing on the cake.

Great product.
Tony Blackshaw, VelectriX Product Manager
Friday, 28 May 2021
Good morning Paul,
It's only a pleasure and an absolute pleasure dealing with you guys. At this stage we are still slowly phasing in Victron and Pylon but things will start speeding up in the next couple of months. Dean is working hard to finish the first Eco cabin show home with Victron/Pylon products. This will further boost sales as they start selling these to already awaiting customers.
Hope life is treating you well!
Izak, MNC Solar Power
Friday, 9 April 2021
Master Instruments supplies efficient service, by working to a deadline then coming in ahead of schedule. They also accommodated our unique international shipping needs. A professionally run team. Highly recommended!
Hypha, by Wireless Innovation
Thursday, 25 September 2020

Dear Robert,

My apologies. This email has been on my to do list for weeks now.

Firstly, I want to say thank you, to you and Phill for your help and all your generous support. It is a really great level of service and customer care you provide, and everything worked exactly as specified.

Secondly the project went so well as to set a new level of expectation from my very fussy clients. Everything will now be expected to have no wires and be battery powered so i suspect I will l be back soon. (Literally these people are so conscious of not seeing wires that I was told to cut a hole in a $6,000 rug. And did!)

Attached are some photos of the build and the final product in store with some of the $25k watches on stands. (Unfortunately I can't authorise these to be used for any third party commercial purposes, as my clients are very conscious of their brand).


Thanks again for your help.

Dr Mark Dyson
Darkhouse Design
darkhouse.com.au
Thursday, 21 November 2019
Good Morning,
Just dropping a some feedback about the online based returns system. Overall I received a positive result after filling the form out yesterday and getting the results this morning, that is a quick turnaround!
Pro's
- Quick turnaround and responses, it felt like it was acknowledged.
- Easily understood layout, of what goes where,, no misunderstanding of language with a professional layout.
- Fields worked, I didn't come across any bugs in the system or broken links/fields
Con's
- Initially there was some difficultly filling in of the particulars but was easily solved after I had found the original invoice (not my usual area of expertise). Maybe implement an auto-fill of fields system after entering the Customer code maybe? Minor detail, not a deal breaker.
Enjoy the rest of your day and wish you best on your continuous improvement journey with the online based returns system.
Kind regards,
Michael Smith
Quality Officer, CSM
AMP Control Group
Wednesday, 26 February 2020
To Andrew Robinson,
Thanks bro I appreciate it that's awesome,
I must say you are by far the most helpful and knowledgeable sales guy I have spoken to in regards to anything solar that I have spoken to in my career
Thanks mate great job cheers I will be putting a lot more sales through you good job keep it up have a good night
Regards,
Nick Kerr
Assistant Manager | CNW Electrical Wholesale - Geraldton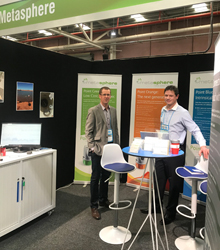 Thursday, 6 September 2018
Hi Paul (Teague)
Many thanks for the info on SAFT stock levels. I will get back to you tomorrow on that front.
Great to meet James and Julie yesterday. Seems like Master Instruments only employ great people.
Paul Hart
Commercial Director - Australia
www.metasphere.net.au