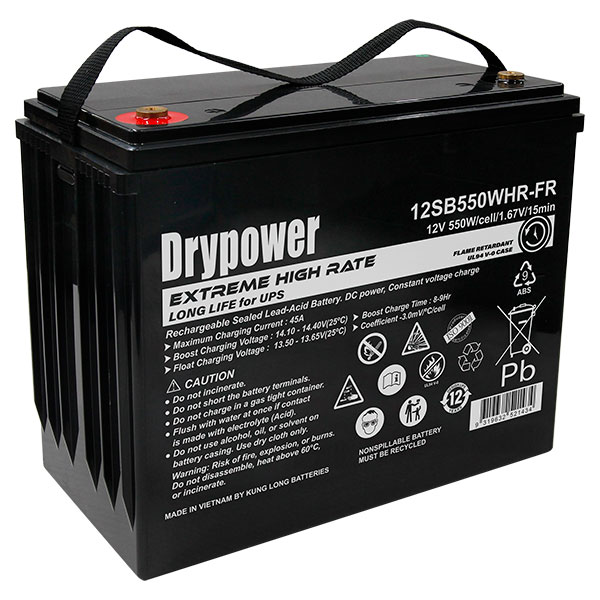 Drypower 12SB550WHR-FR
12V 140Ah 550W/Cell (15min) EXTREME High Rate Long Life battery
The new Drypower EXTREME High Rate Long Life series has been designed specifically for extreme high rate discharge & long design life in floating service applications.
12SB550WHR-FR 12V 550W/Cell down to 1.67V (15 Minute Rate)
Suitable for applications such as:
UPS
Data Centres
Telco Base Stations
Emergency Power Supplies
Security
Fire Alarms
Emergency Lighting
Improvements to the batteries internal grid structure has resulted in improved energy density & a more stable performance wherever high power & short-term backup discharge are required.
Features & Benefits
LONG design life in float service
High rate discharge construction.
Low self-discharge rate and high reliability.
Complies with IMDG Special Provision 238.
Complies with IATA/ICAO Special Provision A67 for air transport.
Extreme energy density, small footprint, increased power (15% to 20% above standard high-rate batteries).
Uses Absorbed Glass Mat (AGM) technology, and the electrolyte is absorbed in fiberglass separators. The gas recombination efficiency is up to 99%.
UL94 V-0 Flame Retardant Case
9-12 Year design life
Fully recycleable
Suitable replacement for: PHR-12500, XP-12500, UPS12-490 MR, HRL12500W, HR5000, 12HX505, S12V500, NSB 12-540FT, PRC-12150C
---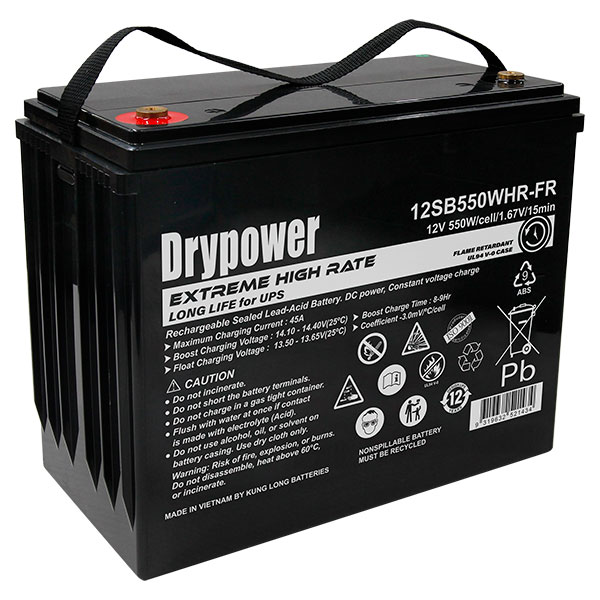 View the Drypower Resources Page featuring VRLA/GEL Battery Cross Reference, Drypower Lithium Specification chart, Termination Guides, Terminal Protectors & Connectors (Busbar) guide, and more.